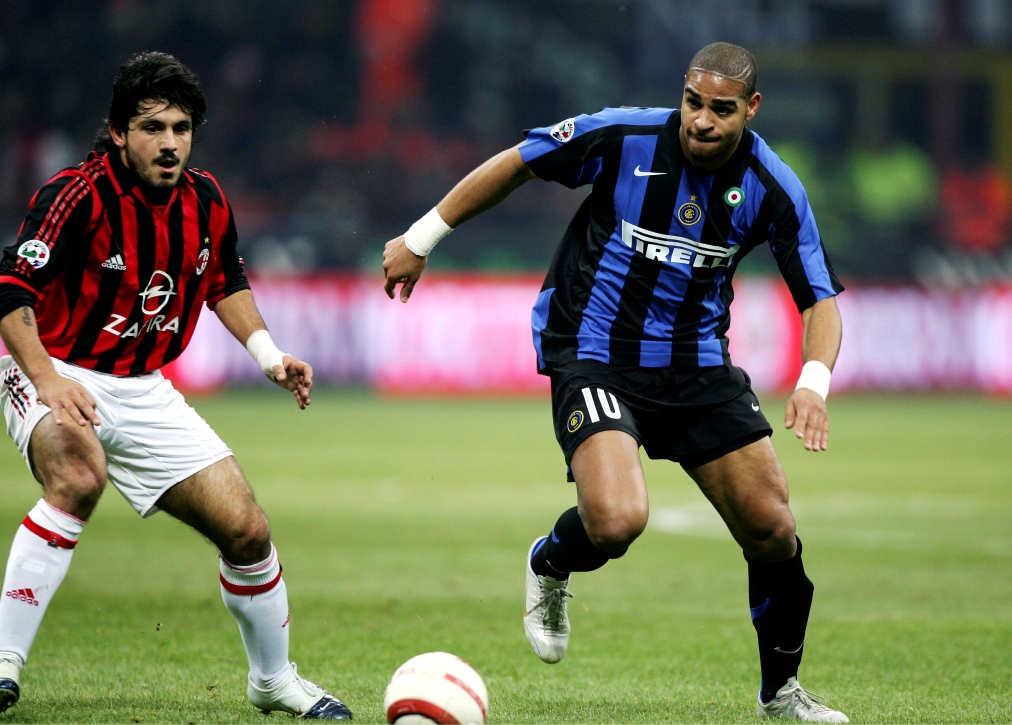 (Picture: Action Images via Reuters)
At his very best, Adriano Leite Ribeiro, or just Adriano, was the best striker on the planet, and seen as the worthy heir to Ronaldo's thrown.
His pace, stature and unnerving coolness when baring down on goal all drew understandable comparisons between the Inter Milan striker and his esteemed compatriot, and both had similar career paths that had some high moments as well as low.
However, if Ronaldo overcame those tough times to write his name in footballing history as one of, if not the best out and out striker of the modern era, Adriano was the opposite, and was unable to overcome many hurdles to make the most of his undeniable talent.
After beginning his career in his home country, with his boyhood club Flamengo, Adriano moved to Inter in 2000 – when Serie A was still regarded as one of the best divisions in the world and home to some unbelievable talent. It was a great move for Adriano, who at the age of 18, had scored 10 goals in 20 games in professional football, but one that maybe came too soon.
Adriano initially struggled in the Italian capital; partly due to the rigours of Serie A and its robust defending, and partly because of a move so far from what he had grew up with – he was born into poverty in Rio's Favela Vila Cruzeiro, a whole different world to the glitz and glamous of Milan – was something he couldn't adapt to.
Nothing went right for Adriano, and the man Inter signed for nearly £11 million was shipped out to Parma in a co-partnership deal between them and the Nerazurri for £9 million. It was a big blow to the Brazilian's blossoming career, and the first of many set-backs, but it was also a priceless second chance.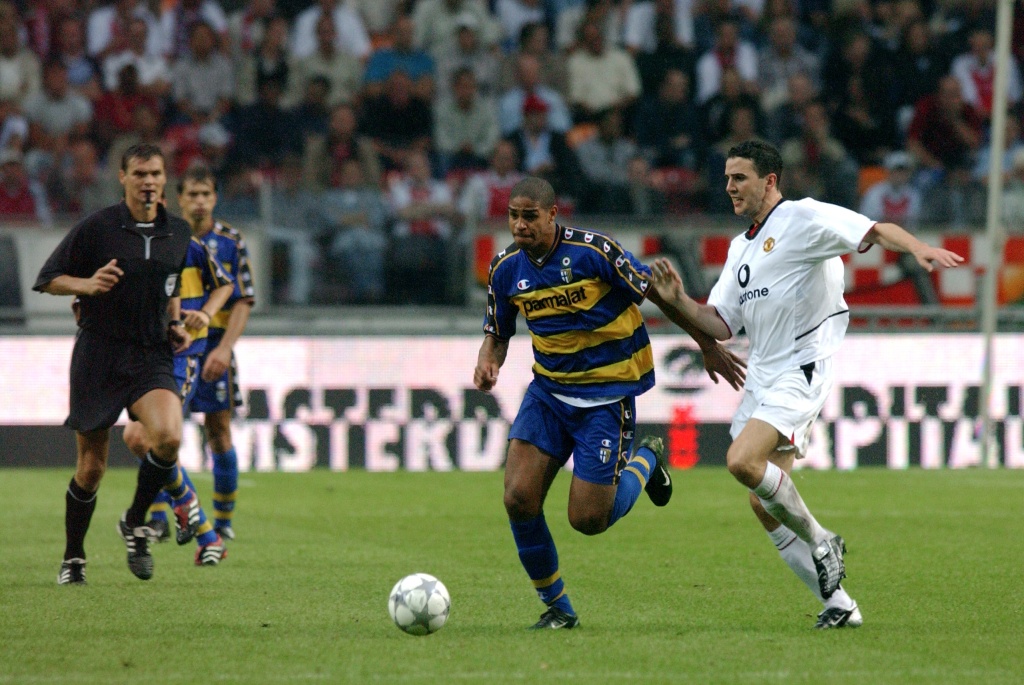 Adriano's move to Calcio coincided with a transitional period for the club, who had had their previously great squad packed full of stars like Fabio Cannavaro and Gianluigi Buffon ripped apart, but alongside Adrian Mutu and under the guidance of Cesare Prandelli, Adriano flourised. He became a star, and showed the world why one of Europe's finest club's forked out so much for his signature.
In 36 games, he scored 22 games – it was a sudden burst to prominence that looked to be the signal for a long and successful career. His powerful sprinting style, and the ability to burst through challenges and shrug off defenders, before scoring all manner of strikes, seemed to be the start of something special. It was quite remarkable how such a big striker could be so quick and brilliantly agile.
Unsurprisingly, after his excellent spell in Northern Italy, Inter took up their option to bring Adriano back to the club, for a staggering £23 million, and he signed a fresh four-year deal before carrying his Parma form on in unbelievable fashion.
Having left Inter still a boy, he was now the ultimate front-man, with a juggernaut of a left-foot and the ability to finish now coupled with a strength and confidence that helped him become such a fearsome player.
From July 2004 to June 2005, Adriano scored a stunning 42 goals for club and country. He helped Brazil win the 2004 Copa America and claimed the competition's Golden Boot in July, won the Coppa Italia with Inter in May 2005 and again impressed on the international stage with Brazil, steering his nation to Confederations Cup glory and sealing another Golden Boot, in July of the same year.
It was the finest year in Adriano's career, and he was rewarded with a new and improved contract at Inter Milan running until 2010 – but the form he produced during that 12 months was never something he could replicate – in part down to the tragic death of his later father, who died from a sudden heart attack.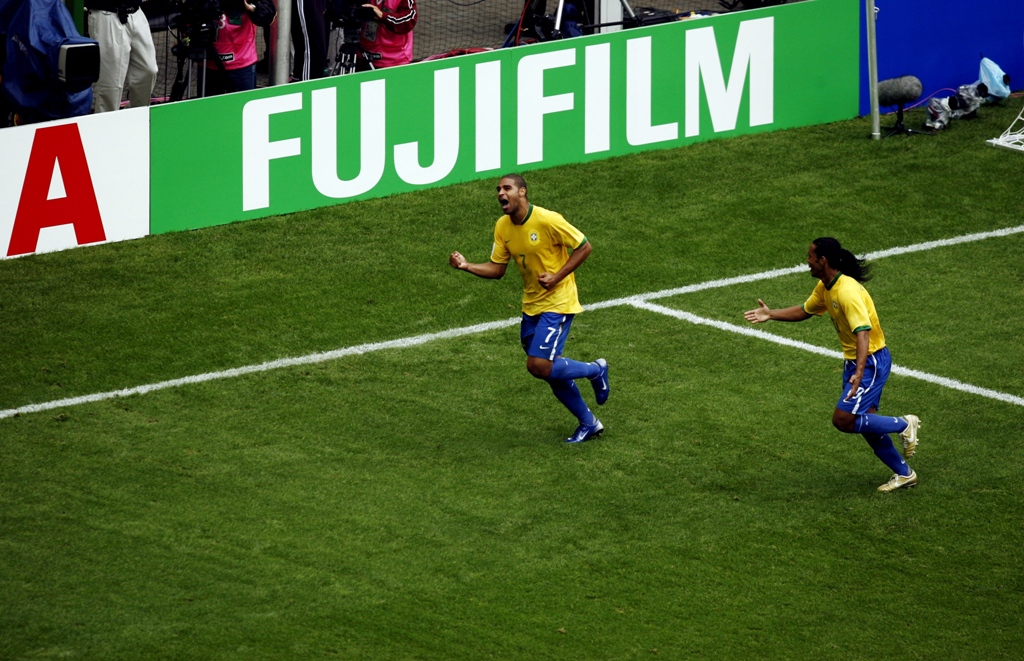 The relationship Adriano had with his father Amir was an impenetrable one; they were hugely close, with Amir an inspiration to his son, and Adriano himself had said earlier in career that impressing his Dad was a major motivation in his career.
It was therefore no surprise to see the striker struggle with his father passing, and it duly coincided with a colossus dip in form.
The 2006 World Cup  was arguably the first sign, on one of the biggest stages, that the once excellent striker was not the player he used to be.
He did score twice, both in the group stages, but in reality, he badly struggled, along with the the rest of his teammates, and Brazil exited the tournament at the quarter-final stage with France knocking them out. However, if some people were shocked and saddened by Adriano's decline, many were not surprised at all.
With the loss of his father, football was no longer the most important thing to Adriano, and he went back down the route of alcoholism that had blotted his past previously, while stories of nights out partying before and after games were regularly emerging, as were stories of him not showing up to training.
It was a sorry sight to see, and the man dubbed L'Imperatore – the Emperor – by the Italian press, was now the peasant.
With him failing to hold down a starting spot at the San Siro, a loan spell back in Brazil in 2008 with Sao Paulo followed, and it started brightly, with a brace on his debut. But sadly, once again, Adriano struggled for confidence, form and fitness, and his troubles continued. After storming out of the club's training ground, Sao Paulo's Sporting Director said: "Adriano left the training ground because he wanted to. The team does not miss him. If he is not happy at São Paulo, he is free to go."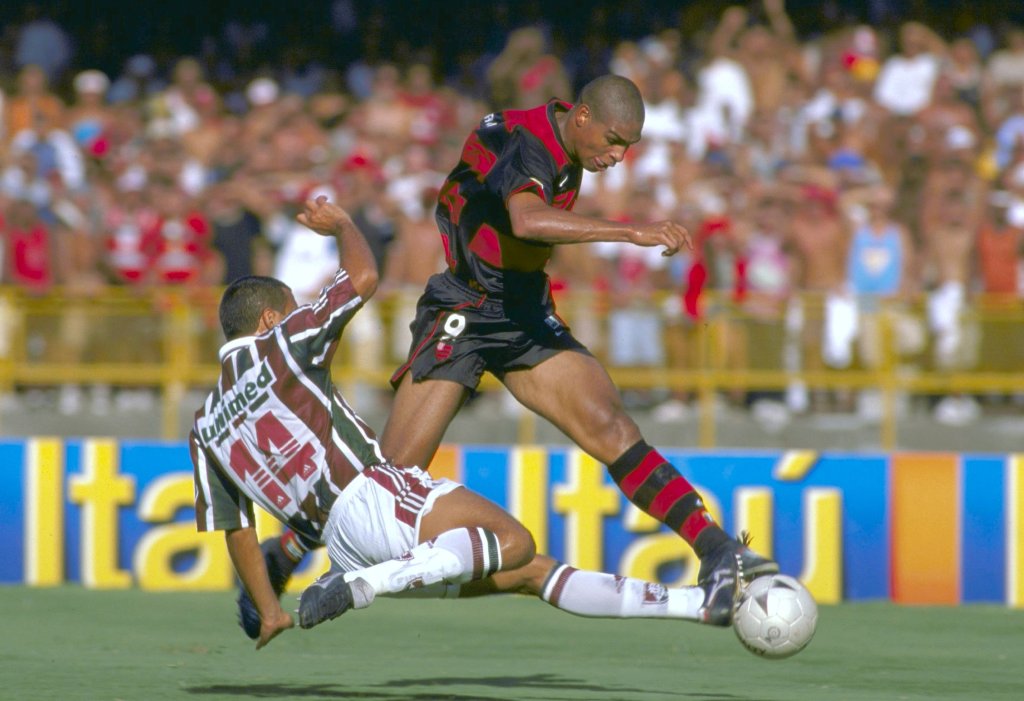 Back to Italy he did go, and the Brazilian had seemingly turned a corner with a bright start to the 2008-09 Serie A campaign, and he scored his 70th goal for Inter against Anorthosis Famagusta – but that form didn't last long, and his fall from grace continued, before he was eventually released from his Inter contract after failing to return from international duty.
A career that had promised so much was slowly peetering out, and although a return to Flamengo yeilded 19 goals, Adriano was clearly no longer in love with the game he once looked like conquering. At the age of just 27, he retired, looking a broken man.
The goals, the lifestyle and ultimately the money that transformed Adriano's life was something he struggled with during the early stages of his career, and after the traumatic death of his father, he realised that lifestyle really didn't matter. Now a retired man, who was once the finest striker in the World, Adriano moved back to Vila Cruzeiro to be with the surroundings and people he loved.
It was not the way in which many people would have envisaged his career to end, and it really was a shame a player with so much natural brilliance didn't make the most of it, but who can really blame Adriano for wanting to end his career and go back to where it all began, with his friends and family?
Long live L'Imperatore!
---
Re-live some of Adriano's finest strikes with this highlight reel:
Happy 35th Birthday to Adriano!

At the peak of his powers, the Brazilian was the best striker in the World. ????????pic.twitter.com/D59g1snRIA

— LateTackleMagazine (@LateTackle) February 17, 2017
What a player!