Who are RB Leipzig, And Why Are They Germany's Most Hated Club?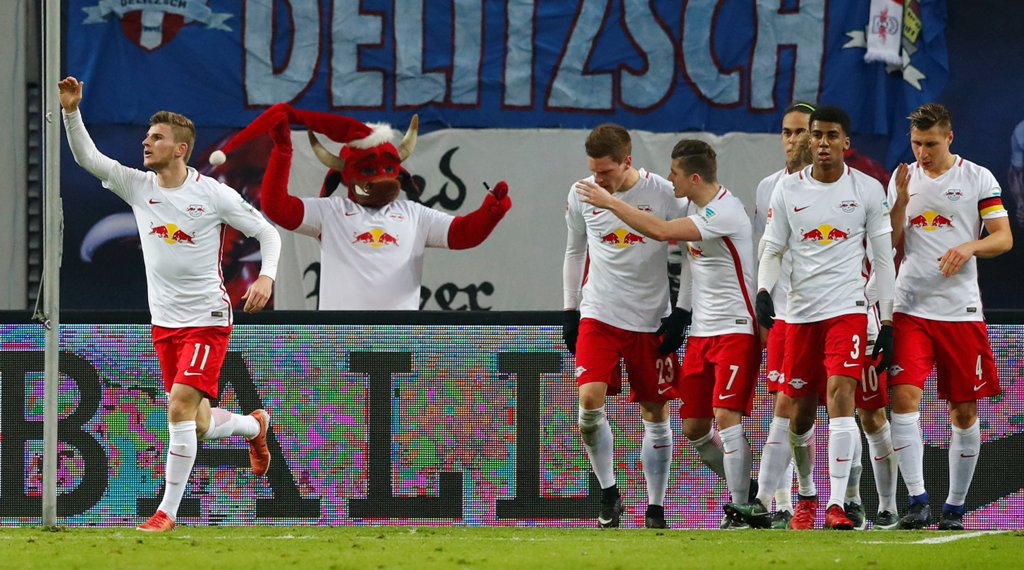 (Picture: Action Images via Reuters)
RB Leipzig have so far taken German football by storm in their first ever season in the Bundesliga, and are currently second, just five points behind Bayern Munich.
With the goals and pace of 21-year-old Timo Werner, the league's top-scorer so far this season, and the assists of the excellent Emil Forsberg, a strong contender for Bundesliga Player of The Season, Die Roten have settled into Germany's top tier like they've been there for 10 years, when in reality they were only formed in 2009.
It has been an astronomical rise for the East German club, an area of the country that was ravaged by lack of funding and football scouts that ruined the football system in the region in 1990 after reunification.
It should therefore be a cause of celebration for Germany as a whole that a club from the East has risen from the ashes, and from awful management, to reach the country's top footballing table, but that just isn't the case – because RB Leipzig are the most hated club in Germany.
Up until '09, the club were known as SSV Markranstädt, and were a fifth division side that had plodded through the lower tiers of German football with barely anyone having heard of them. Then, out of nowhere, Red Bull, the Austrian energy drink company who also own Red Bull Salzburg and New York Red Bulls, bought the club.
As well as changing the name of the team, they also changed the club's crest, kit colours and promised a huge transfer budget of nearly £85 million. They had high hopes for this tiny team, and wanted to take them to the top.
Germany's governing football body (DFB) rules against clubs being named after club sponsors, so Markranstädt were craftily renamed Rasenballsport Leipzig – a name the controversial new owners said had nothing to do with Red Bull's initials, despite them only ever refererring to them as 'The Red Bull's' or RB.
The club goes against everything that has helped Germany become a footballing mecca for fans across the globe, who often travel to Bundesliga matches to be a part of some of the best atmosphere's, at some great grounds, but for low prices. While in England, for example, you can pay thousands on a Premier League season ticket, a season ticket at Bayern costs a measly £104!
While fans often feel they are treated as customers, in Germany, fans are treated as just that – fans. With cheaper tickets, safe standing and beer on the terraces, the country has gained many plaudits, but RB's emergence has threatened to curtail all the good work done.
The Red Bull marketing campaign is bad enough, but it is the corporate feel that has created the majority of ill-feeling in Germany. Much like their strict rules against naming rights, the DFB have strong laws to deter foreign investment from taking over clubs in ways similar to Man City and Chelsea.
This is a rule in place to keep German football sustainable, and is known as the "50+1" rule – a rule which means the club, and its shareholders, own a majority of voting rights within the club. Borussia Dortmund, for example, have nearly 200,000 members who all vote on big decisions at the club, from kit manufacturers to ticket prices.
This idea of fan ownership is incredibly popular, and a major part of football in Germany and why some love it so much – but Leipzig have allegedly gone against the 50+1 rule to make more money, and grow the club as a brand and as a business – with football somewhat as an after thought. Membership at Dortmund costs a fan £50 – at RB, it can cost £1000.
As a result, Leipzig only have 17 members who have paid and make the decisions that matter – and the majority of those are associates or employees of Red Bull, and would otherwise have no reason to care for the welfare or well-being of this up and coming club.
The way Leipzig, as a club, are run, is what makes them so incredibly hated. At a recent game between third placed Dortmund and Leipzig, controversy and violence ruled supreme. Fans of Dortmund threw bottles, stones and displayed banners to highlight their disgust towards the club they were playing.
Some of the more family friendly things unfurled at Signal Iduna Park last month were "Slaughter the bulls" and "Red Bull, enemy of football", but this is nothing new to fans of RB. All season, Berliner Kurier, a tabloid paper in Germany, have refused to call the club by its real name, and label them simply as Dosenverkauf (Can-sellers) in their reports. Similarly, in the first round of the Pokal Cup this season, Dynamo Dresden fans threw a severed bull's head onto the pitch.
Since their formation, many boycotts and displays such as the one at Dortmund, in the media and at Dresden have hampered RB. Fans of the club say others are hypocrites, and also say Leipzig should be heralded as a club with a good philosphy for the way football should be played, and for having a good, young team with the likes of Werner and Oliver Burke.
However, for the majority of football supporters, that is not good enough, and for as long as they continue to exploit the game, and fans, they will remain Germany's most hated club.
Tagged Bayern, Bayern Munich, Borussia Dortmund, Bundesliga, Dortmund, German football, Leipzig, RB Leipzig