Five Of The Biggest Derbies In World Football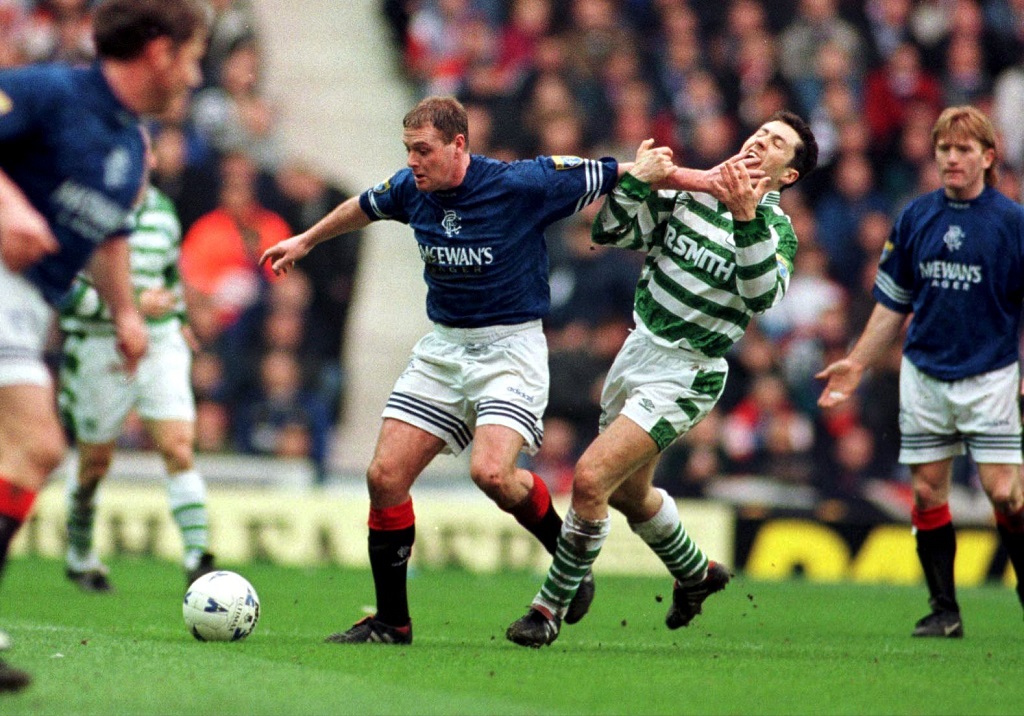 (Picture: Action Images via Reuters)
By Matt Bishop
On Wednesday night, Hibernian take on Edinburgh rivals Hearts in what promises to be a typically fiery encounter as both teams go head-to-head for a place in the quarter finals of the Scottish Cup.
Over the years, the games involving the side's from Scotland's historic capital have been full of controversy, vitriol and indeed some brilliant football, but despite the dislike Hibs and Hearts have for each other, we think there are some derbies even more huge and hateful.
We have a go at listing five of the biggest, below…
5. Benfica v Sporting Lisbon
These two Portuguese heavyweights have hated each other from the very start, partly due to their proximity – they are only 3km apart – but mainly because of their differing backgrounds. While Benfica are a club known as a a club of the people, highlighted with the old Estadio Da Luz funded by fan donations, Sporting have a very royal background, formed by Jose Alvalade, a man who had strong links to Portugal's King Carlos I.
The size of the two teams also has a massive impact on the size and importance of this derby. Porto and Braga are big clubs in Portugal, but the capital houses the two biggest and with an estimated 9 million of the country's 14 million population calling themselves either a Benfiquista or Sportinguista, this derby grips the entire nation.
Since the first Lisbon derby was played over 100 years ago, Benfica and Sporting have similar records, but in success, their recent form couldn't be more different. While Verde e brancos haven't won the league since 2001, their most hated enemy Benfica have won the league five times, and are Portugal's most decorated club with 35 titles.
With former Sporting boss Jorge Jesus now in charge of Benfica, the Eagles are 10 points clear at the top of the Premeira Liga, while Sporting are 10 points behind in third – their hunt for a title will go on for at least another season, and their rivals will certainly let them know about it.
4. Zamalek v Al Ahly
Football in Egypt has had some tough times in recent years, with political unrest and fan violence causing entire seasons to be cancelled due to safety concerns, so it is no surprise that the country is home to one of the world's most fearsome rivalries.
In Cairo, you are either Red – an Al Ahly fan – or White – a Zamalek fan – and the hatred the two sets of supporters have for each other is unquestionable, going back over a century to when the British army ruled the country. In the face of colonial reign and the British, Al Ahly were formed as a club for Egypt's people. They played in the red of Egypt's pre-colonial flag, and were the working-class team who came together for the nation.
To rival Al-Ahly, Zamalek were formed, and were considered as the team of the foreigner. They played in white, and attracted members of the British army and their allies as players and fans, including the educated higher-classes who were fearful of Ahly's nationalistic passion.
Ever since, those working-class and higher-class divisions have remained, and fights on the pitch as well as off it are common place as fans and players alike get caught up in a battle that often takes place in front of 100,000 chaotic fans. In total, the fixture that divides Cairo like nothing else has been postponed five times.
3. Red Star Belgrade v Partizan Belgrade
Known as the Eternal derby, this match between Serbia's biggest and most historic two clubs engulfs the country, and even a multitude of sports. Both club's have basketball and handball teams, for example, and the rivalry and brilliant atmosphere's are evident at those games, but it is without question that football creates the most tension.
Both sides were formed in 1945, and rose from the ashes of World War Two to stake their claims as the country's biggest club. While Partizan were the club of the Yugoslav army, Red Star were the civil rivals and both teams fought on and off the pitch for footballing dominance.
They can each claim to be the best in Serbia, with Red Star having won the league 27 times and Partizan 26, but Red Star also won the European Cup in 1991 and it is that honour that they believe sets them apart from their bitter rivals.
The fall of Yugoslavia decimated football in the Balkans, and the Belgrade derby is not what it once was. In a country such as Serbia, were the game is rife with corruption allegations, the football has suffered as a result, but it certainly will be an eternal rivalry that still sees crowds of nearly 60,000 when the pair take each other on, and away followings of up to 10,000.
2. Celtic v Rangers
This fixture between Scotland's two biggest clubs is much more than a football match, and the rivalry stems from a religious background that has often overshadowed what goes on on the pitch – and it makes the Old Firm one of the biggest derbies in the world despite taking place in one of Europe's weakest top-tiers.
Understandably, because of the two sides coming from either side of Glasgow, there will always be hatred and rivalry, but beyond 90 minutes of football, the history of the two club's creates the rivalry. Celtic are a Catholic club, with strong roots in Ireland and a passionate fanbase, while Rangers are Protestant and have the support of Glasgow's protestant sector.
On the pitch, both have dominated their division like no club anywhere else in the world could dream of. Celtic, with an illustrious roll-call of players that has included Kenny Dalglish and Henrik Larsson, have won 47 league titles and a European Cup while Rangers, with legends of the past such as Paul Gascoigne and Brian Laudrup, have 54 league titles to their name.
Their dominance of Scottish football has often led to calls the pair should enter the English football league, but whatever happens, now Rangers are back where they belong in the SPL, this derby, rooted in history, will forever be great.
1. Fenerbahce vs Galatasaray
Much like the derbies listed above, and many other massive derbies across the world, this derby between two of Turkey's most decorated clubs comes from a deep social, cultural and regional sense of hate and ill-feeling.
In 1905, Galatasaray were formed by high-school students on the European side of Istanbul, and they have since been regarded as a team that represents the higher classes, and looks down on other fans and teams due to its educated, and European, background. On the other hand, Fenerbahce were formed two years after their rivals by working-class men, on the Asian side of the city, and were always supported by the everyday person in Turkey.
In that time, of course, the social classes have narrowed, and fans from all backgrounds support both teams, but the rivalry is entrenched in the DNA of the clubs, and furthered by the competitiveness on the pitch.
Ever since a friendly game between Gala and Fener was abandoned in 1959 due to violent scenes between players on the pitch and fans in the stands, hoolaganism has troubled this fixture as fans from both clubs are desperate to stamp their club's name down as the biggest in Turkey. The Intercontinental derby is like nothing else in world football.
Tagged Al Ahly, Belgrade, Benfica, Celtic, Derbies, Egypt, Fenerbahce, Galatasaray, Lisbon, Old Firm, Partizan Belgrade, Portugal, rangers, Red Star Belgrade, Rivalries, SPL, Sporting Lisbon, Turkey, Zamalek