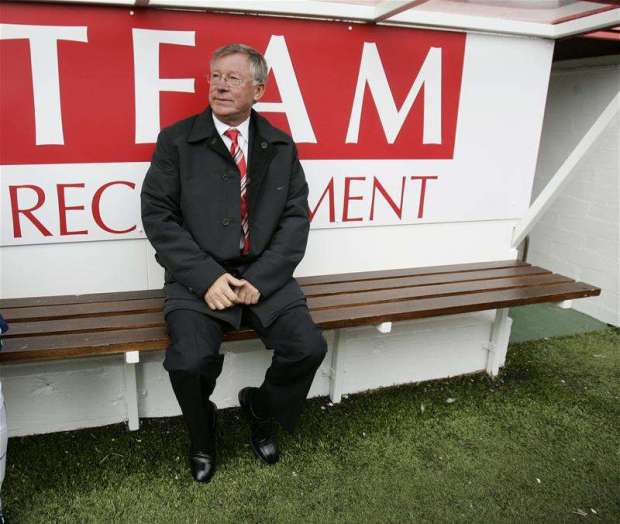 By Ged Barnes 
Sir Alex Ferguson is – quite rightly – revered in England for his phenomenal achievements with Manchester United. Two European Cups, 13 Premier League titles and a whole host of other trophies have ensured that Ferguson will forever be remembered as one of the most successful managers in English football.
Sir Alex arrived at Old Trafford in November 1986, after already achieving more in his time with Aberdeen than most managers achieve in their whole careers. It is for these eight years in Scotland that Ferguson is still fondly remembered at Pittodrie, despite his illustrious 27 year career south of the border.
Ferguson took control of Aberdeen in June 1978, after then manager Billy McNeill was poached by Scottish giants Celtic. He guided the Dons to a fourth-placed finish in the 1978-79 campaign, ensuring qualification for the UEFA Cup in the process. Aberdeen finished just eight points behind eventual winners Celtic that season.
With the bedding-in process complete, Ferguson then guided his team to the Scottish League title in just his second season in charge (1979-80), ending Aberdeen's 25-year wait for the prestigious prize. Aberdeen would also win back-to-back titles for the first time in their history under Ferguson, as they ended both the 1983-84 and the 1984-85 campaigns, on top of the pile.
Inspired by players such as Jim Leighton, Gordon Strachan and Alex McLeish, Aberdeen also managed the hugely impressive feat of capturing the Scottish Cup three years in a row, from 1981-82 to 1983-84.
The jewel in the crown of Ferguson's illustrious stewardship was undoubtedly Aberdeen's glorious Cup Winners' Cup campaign of 1982-83.  They held European giants Bayern Munich to a goalless draw in Germany in the quarter-finals, before winning the second leg 3-2 at an hysterical Pittodrie, despite going behind twice on the night.
Aberdeen then crushed Belgian side Waterschei 5-1 in the semi and as a result, despite losing the second leg 1-0 in Belgium, went on to face the mighty Real Madrid in the final.
Both sides found the net early, with Juanito equalising for Madrid after Eric Black had opened the scoring in just the seventh minute. There were no more goals in normal time however, and after 88 minutes, Ferguson unleashed a masterstroke by bringing on John Hewitt for Aberdeen's goalscorer Black.
Hewitt wrote himself into Scottish folklore by scoring the winner, and Aberdeen became just the third Scottish club to win a European trophy. Of course, it wouldn't be the first time a substitute scored the winner for Ferguson in a European final. In his eight years at the helm, Ferguson's Aberdeen won an incredible 11 trophies.
Since the great man left Pittodrie, Aberdeen have been forced to watch the league title change hands between Rangers and Celtic on a regular basis. Now, with Rangers old boy Derek McInnes at the helm, and his old team no longer competing in the Premier League, the Dons look like they may be preparing a title challenge reminiscent of their glory years. It's still very early in the season, and Celtic remain strong favourites to win the League trophy, but eight wins from their first eight matches made the rest of the Scottish Premiership sit up and take notice of this current Aberdeen side.
Like Ferguson before him, McInnes also delivered a trophy early in his Aberdeen career, though the latter needed just one season to get his hands on some silverware. It had been 19 years since Aberdeen had won anything of note, but a 4-2 win on penalties over Inverness Caledonian Thistle in the Scottish League Cup final ensured that McInnes was an instant hit with the Red Army.
In their second season under the former Scottish international (2014/15), Aberdeen finished second in the League, their highest league position for over 20 years. Combine this with the aforementioned eight wins from eight at the beginning of this season and you'll find plenty of reasons for Aberdeen fans to be optimistic.
A couple of league defeats, including a 5-1 mauling at home by an impressive St Johnstone, have slightly tempered expectations.
One can only imagine the fury with which Ferguson would have reacted to such a defeat, and current boss McInnes has gone on record publicly describing his team as 'naïve and weak' in the wake of the defeat.
One of Ferguson's most impressive traits was inspiring his players to perform after a setback, and McInnes will have to instil similar confidence amongst his men to get back on track.
If Aberdeen do perform to their potential, then a challenge for the League title may not be completely unrealistic. While the game has changed considerably since Ferguson took the reins at Pittodrie, most fans still root for the underdog, and their longing for a football romance would be rewarded if Aberdeen could wrestle the title from Celtic's steadfast grip.
Improbable? Yes. Impossible? Well, as the banner adorning Sir Alex's face inside Old Trafford states: "The Impossible Dream – Made Possible."
Aberdeen fans can but hope.