ROY 'Red Card' McDonough was 16 when he tried to strangle the referee in a schools cup final.
"The bloke was a prize p***k," remembers McDonough, now 53. "He was headmaster of another school who I used to batter every time we played. It was his chance for revenge and he was giving me nothing. I took it for a while, but then I snapped. I still remember his feet swinging where I'd picked him off the floor like the Incredible Hulk."
When the red mist cleared and McDonough released the terrified teacher, he was sent off – a precursor to an extraordinary career that would see him receive an English record 22 red cards.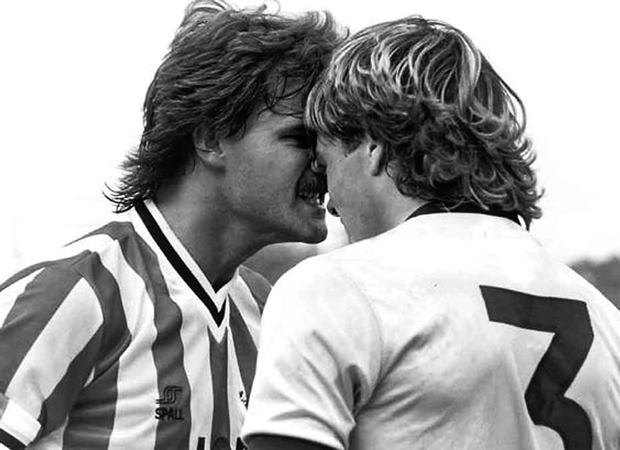 In 18 years with Birmingham City, Walsall, Chelsea, Colchester, Southend, Exeter and Cambridge, the big centre-forward was renowned as the toughest of tough guys, a man who drank as hard as he played, bedded a reputed 400 women and never shirked a physical battle.
"In my day, if you were 6ft-plus, you punched your weight," he says. "I've clumped people in the tunnel before the game, I've had punches thrown at me afterwards. If someone felt hard done by on the pitch, it would be sorted out in the tunnel or the players' bar, where I had plenty of skirmishes. It was a battle, and I loved it."
Yet McDonough's tale is also one of wasted talent. Once a model pro, rejection by Birmingham and Chelsea led 'Big Roy' to seek solace in the nightspots of Essex.
And what could have been a top-flight career became a boozy, destructive trawl through the lower leagues.
One of seven children, McDonough was on the books at Aston Villa with a young Gordon Cowans, but never made the grade. However, in 1977, he was picked up by Birmingham City and, for a while, appeared to be heading for stardom.
"In the pre-season, me and Trevor Francis played nine games and got 16 goals between us – he scored nine and I got seven. And I'm thinking in my little immature mind 'I'll be starting the season'.
"Now I realise that was stupid. A teenager being first choice striker at a First Division football club? The fans would have screamed the place down.
"But I was a headstrong 19-year-old and I thought I should be in the first team. I was scoring hat-tricks in the reserves and getting nowhere. Yet Keith Bertschin, who was signed for £135,000 and keeping me out, couldn't hit a barn door from three yards. It was getting to me, so I left.
"On the Thursday, I joined Walsall. On the Saturday, I made my debut and got man of the match. "So soppy bollocks here picks up the Argus to read about myself, and what was the headline? 'City strikers out for the season'.
"That same Saturday, Trevor had ruptured his knee tendons and Bertschin had broken his leg. I was devastated."
Unbowed, McDonough then rebuilt his career at Walsall, only to see his second shot at the big time – with Chelsea in 1980 – take a similar turn.
"The club was crap, Fred Karno's Circus," says McDonough. "Bobby Gould and Geoff Hurst where the management dream team. More like Laurel and Hardy.
"The reserve team manager was a guy called Brian Eastick, a proper clipboard Charlie. Been sacked from every club in London and now he's got a job at the football centre in Burton. Unbelievable.
"It was a f***ing shambles, and I knew it. I had a four-year contract and I walked away from it after eight months.
"I had offers from Cardiff City, Bristol City, Doncaster and Colchester. So I picked up an atlas at Stamford Bridge, sat down and thought 'Colchester looks close'.
"I chucked all my stuff in the boot, collected my kit, drove up the A12 to Colchester and signed the contract. I didn't even know what division they were in until I picked up the paper in the hotel afterwards. That's how naïve I was.
"When I saw they were in the Third Division, I thought 'that's my career over'. In my mind, I wrote it all off. I thought 'I've worked hard from school and it's all over so f*** this, I'm going on the piss and I'm chasing the girls'. And that's what I did."
So began a self-destructive spiral as McDonough boozed away any chance of a top level career – although he did manage to pull a former Miss World using only a packet of crisps and £1 petrol money!
"I had the time of my life and the girls thank me for it every time I see them," he laughs. "But if I sat down with a psychologist, he'd have said my self esteem was out the window. It all sounds a bit bollocky from a grown man, but looking back I think that's what happened.
"There was no-one there to guide me, to plot my path. I had a great life but the big regret is that I didn't play at lease 100 games at the top level. Do you know how many I played in the end? Two. With one goal."
Nevertheless, McDonough is fondly remembered by fans of Colchester, Southend and Cambridge, where his  relentless bullying of defenders won him terrace hearts. His red cards were rarely for throwing punches – rather knees, elbows and anything else to protect him from fellow cloggers.
"I was an honest, genuine player, and I don't see much wrong with that," he says. "I always thought Andy Gray was  legendary in the air because he threw himself at the ball.
"If he got it wrong, his body's hanging out for a clump. But because he attacked it so aggressively and honestly, supposed tough-guy centre-halves got out the way.
"I was pretty similar. But what I did was protect myself a bit more. You got head-butted, you got elbowed, you got spat at. It all went on. And I learned at a young age that self-preservation was key.
"Referees saw that I was a big lump and never protected me. So I had to do it for myself, otherwise I'd be stretchered off.
"The problem was that people got to know you and took liberties. I remember getting stitched up at Rochdale by Gary Peters. The whole team-talk was based around 'Get McDonough wound up because eventually he'll bite and get sent off'. And they were right. But it took three centre-backs who took it in turns to clobber me."
Later, McDonough had a successful three-year stint as player-manager of Colchester, scoring 29 goals and leading the U's to the FA Trophy and Conference double in 1992.
And while you would expect a man so  industrial to adhere to the Joe Kinnear school of management, McDonough won his respect in other ways.
"Screaming and shouting went out with the Ark," he insists. "It's about pressing the right buttons and if players like  you, they'll play for you.
"None of them could outdrink me. None of them could outshag me, none of them could outfight me and if they wanted to borrow a tenner, I'd lend them a tenner. They respected me and they liked me, because I'd look after them.
"And on a Saturday night, I used to go into the town centre and get drunk, because I felt I'd earned it. I'd bump into all the fans. And I'd always say 'Hello, were you there, did you enjoy the game?'  They loved that, and it gave you a lot of leeway when things weren't going so well. But that's all gone now."
So, too, are men like Roy, as he discovered when he returned from his home in Spain to take in a game at Roots Hall last week.
"I think fans get short changed these days," said McDonough. "I was at Southend v Dagenham the other day when a bloke crossed the ball and it hit the centre-half in the face. The ball was live, but he went down like a sack of spuds and didn't get up for four minutes. For a ball in the face!
"If I'd been his manager, I'd have walked on that pitch, punched him in the face and said 'Now you've got a reason to stay down, you soft t**'."
Big Roy on… Hard Men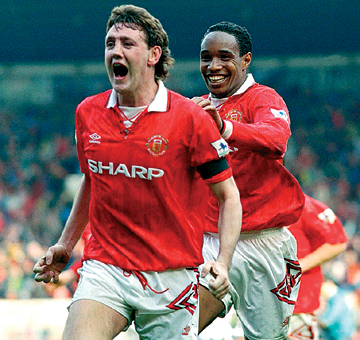 When you talk about tough, hard players, Steve Bruce sticks out like a sore thumb, for two reasons.
One, that he was a great player with a brilliant first touch. I was 18 or 19, just making my way when I first played him at Gillingham, and I'd never seen a defender pass the ball so well.
The other was that he was hard as nails. We cracked heads, we elbowed each other, we trod on each other, we challenged every ball for an hour and a half. And throughout it all, he never said a word.
Then, at the end, he came over and gave me the biggest, firmest handshake, looked me straight in the eye and said 'Well done big fella, I really enjoyed that'. For me, that's what football's all about.
Tony Adams was another one who was tough as old boots, and much better on the ball than people ever give him credit for.
It's like Vidic at Man United now. He's a proper throwback, one of the few big old-fashioned centre-halves who'll put his head in and get a clump. He'll take all sorts and get up and carry on.
There was also a bloke Graham Forbes played for Walsall. He never quite made it, but he was hard as f**king nails.
Just banged heads and bones. At the end of the game, he might have a few stitches or a flat nose, but he'd get on with it and have a pint with you afterwards.
Big Roy on… Bluffers
I hated a mouthpiece. The one that always sticks out is Mick McCarthy, who was always shouting the odds about how tough he was.
Whenever I played against him, he'd be making his mouth go, playing the big tough guy centre-half.
So I used to walk up, look him in the face and shout to the lads: 'Oi, lads – stick the ball on this bloke's head, I'm going to smash him all over the place.' He'd take one look at me and switch with Ian Evans, his centre-half partner, instantly.
Mark Wright, what a great player he was. But I did the same with him and I've got two man of the match decanters in my house to prove it. It was all about judging the reaction.
Whether it's verbals, whether you tread on them in the tunnel, say 'We're going to have it off today, me and you mate. You just test their mettle and you know straight away who the real tough guys are.
If I'd tried to bully Steve Bruce, he'd have smashed me from pillar to post because he was clever and he was good at his job.
Big Roy on… Stuart Pearce
I had the utmost admiration for Stuart Pearce as a player, never more than when he scored that penalty, because that took real bollocks.
Which is why I was so sad to see him as Fabio Capello's lapdog. Seeing him kowtow to Capello used to make me cringe, sitting there with his little notepad.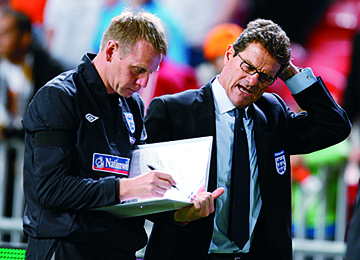 You don't see Alex Ferguson making notes. All of a sudden these numpties have got notepads and sit there drawing pictures. Players ain't interested. Keep it simple, to the point, and players will respond. Show them a picture of a formation and they'll say 'F**k that, what's this all about'. Teach them the basics and they'll do exactly what you say.
I'm ashamed to say it but I'm glad they got knocked out of the Olympics. I didn't want Stuart Pearce to get any glory because he sat there like a little spitting image puppet for all those years. The man's got more than that and if that's what you need to keep yourself in a job then you can stick it.
Big Roy on… Andy Carroll

I thought Andy Carroll was all set to be the next Alan Shearer, because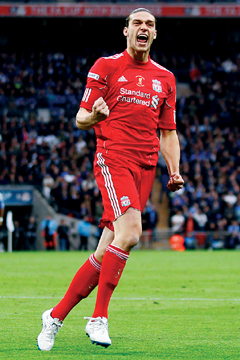 he's got most of what you need. He throws everything at the ball. He's old school.
But now, he's a multi-millionaire at 21 and I don't think he gives a f***. It was hard enough leaving my home town just to play football. If someone had give me a million quid as well, I don't know what I'd have done.
He needed somebody totally neutral to sit him down and have a proper word, to say 'Look, forget the money. Listen and learn off Dalglish, off Gerrard, and you could be a great player'.
Instead he was left to his own vices. He wants to get down the pub, he wants to pull the birds – because he ain't a bad-looking lump for a centre-forward. All they've done is give him more drinking money.
People think footballers get loads of money so they should be model citizens, but that's a load of crap.
It's like Wayne Rooney. Because he's on the telly twice a week and he's good at football, people expect him to have a perfect command of the Queen's English and be highly intelligent. But he was gifted with a great football brain, he ain't Einstein. He can't be everything just because you pay him a lot.
Big Roy on… player managers
I've worked under Gerry Francis. He was a shocking player manager because he was about four stone overweight. Paul Clark at Southend jumped over the fence the minute he got the job.
It was the same with Ian Atkins who I grew up with. I was letting him stay in my house for free and he turned around and said 'Roy, you've got to stop calling me Akkers. It's got to be boss or gaffer'. I said 'You can stick that right where the sun don't shine' and I never did.
This is what people do and it's all wrong. When you're a player-manager, you're a team-mate first and a manager second.
Big Roy on… the art of defending
Watch the Premier League this weekend and you see how many goals are scored from free headers at free-kicks and corners.
We did the double at Colchester and when I was on the pitch, we didn't concede a single goal from a set piece. It was my pet hate.
There's no excuse for it – you know where the ball is coming from so all you have to do is be brave and throw yourself at it. We're talking blokes on £150,000 grand a week who won't put their body on the line. It's not good enough.