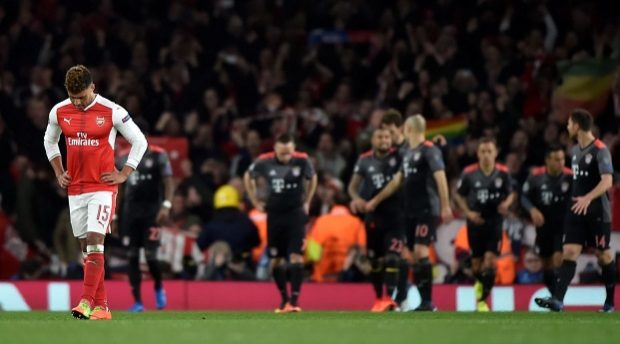 By Edd Paul – @Edd93Paul
Another year, another pathetic Champions League knockout for Arsenal. Two 5-1 defeats to Bayern Munich, 10-2 on aggregate. The Gunners were completely stuffed, again, and no one is surprised.
Arsenal's consistent ability to both be good enough to qualify for the Champions League each year yet bad enough to always get totally routed in the knockout stages is hilarious and infuriating in equal measure. They've been playing the same tournament for the past seven years, unable to traverse the dreaded round of 16, because that's what they do. They could at least try something interesting in the process (stick Elneny in goal! Start Gunnersaurus up top! Stone Piers Morgan on the pitch at half-time!) but instead they will just tippy-tappy their way to another loss and another Champions League failure.
And while it is always amusing seeing Arsenal get fucked up and watch their fans lose their shit – ranting into a camera or on twitter because football is the only thing in their miserable, merchandise-clad lives that hints at the prospect of happiness, because they've sacrificed being a normal human being and having normal human relationships that don't revolve around heated arguments over Olivier Giroud and net spend and SSN HQ polls and Arsene Fucking Wenger – the whole shtick is starting to lose its charm.
Yes, the memes are always funny ("Hey, Arsene, what's the time? 10-2! HAHAHAHAHA") but at this point ripping the shit out of Arsenal is like picking on the dumbest kid in class who just can't work out the square root of 16; he's never going to get the answer but we're going to have to sit here watching him struggle for it anyway, and taking the piss out of him isn't even that funny anymore.
You can have too much of a good thing, and we're hitting that stage with Arsenal and the Champions League. There's only so many times we can watch them fail before it stops being funny and starts making you more annoyed that UEFA is wasting a perfectly good spot on Arsenal, the flacid, floppy, useless dick of Europe's big clubs. There is a legitimate case to be made for the Gunners to be banned from the Champions League, for a couple of seasons at least, until they get their shit together and stop wasting everyone's time.
We're seven seasons into their abusive relationship with the round of 16 and they're still going back, year after year, thinking things can change, when we all know that will never happen, not unless Arsenal make a clean break in some aspect. And last night could be the moment that started to hit home.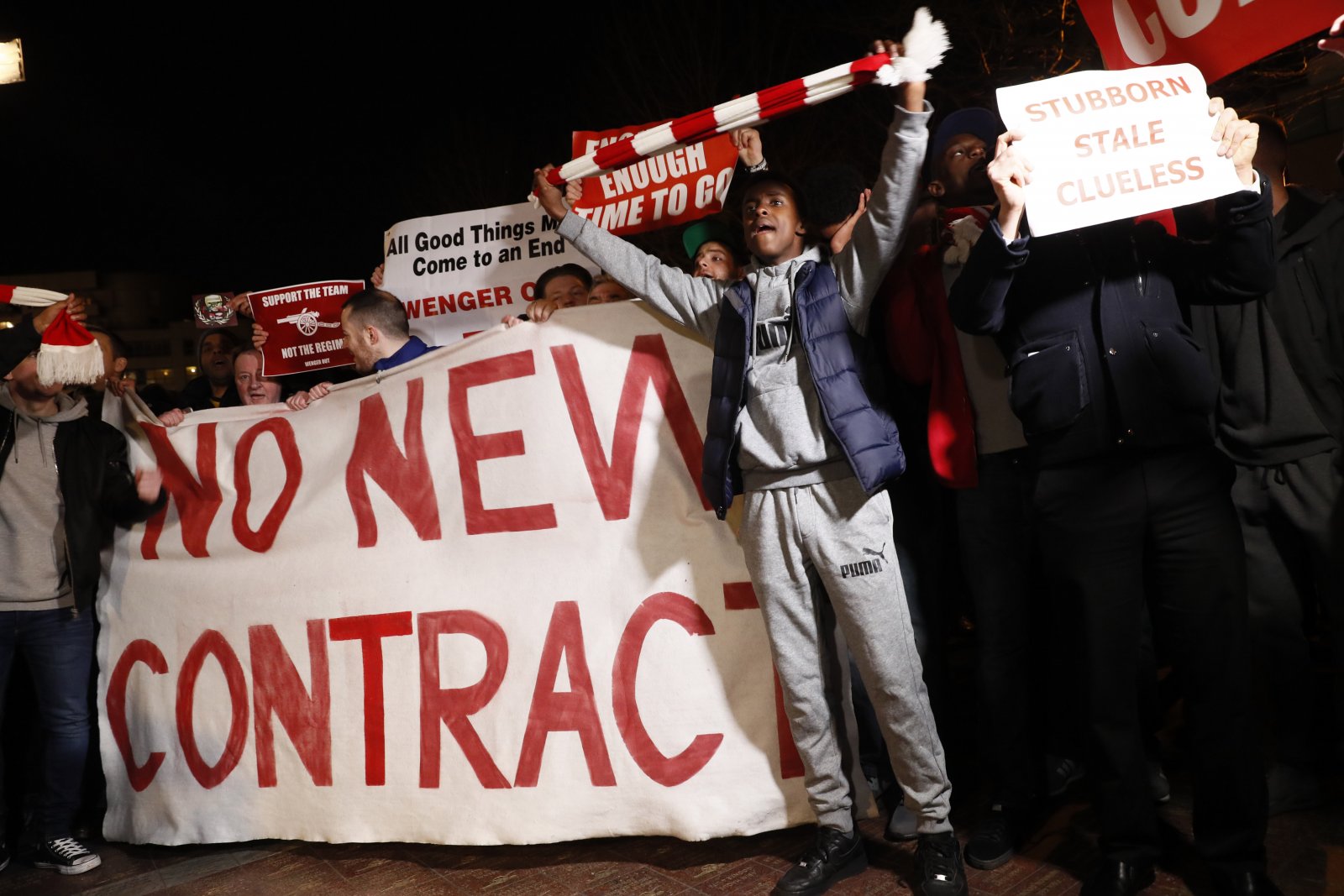 The calls for Wenger to go are getting ever louder, with larger, more visible protests all around the Emirates. And while Bayern Munich are a hell of a team, losing to them 5-1 TWO TIMES OVER* is pretty unacceptable for a historically successful club like Arsenal. It won't do.
Wenger knows this, and he may very well be gone at the end of the season, which would definitely mean change, for better or for worse. But it would probably be an entertaining change, at least. Watching Arsenal potentially crash into mid-table mediocrity would be a hell of a lot more fun than watching them suck in Europe year after year.
*On that note, here are some teams who haven't conceded five goals in a game against Bayern this season: Schalke, Ingolstadt, Hertha Berlin, Koln, Eintracht Frankfurt, PSV, Augsburg, Hoffenheim, Mainz, Darmstadt, Freiburg, Wolfsburg.