The Wonderful World Of Vintage Programmes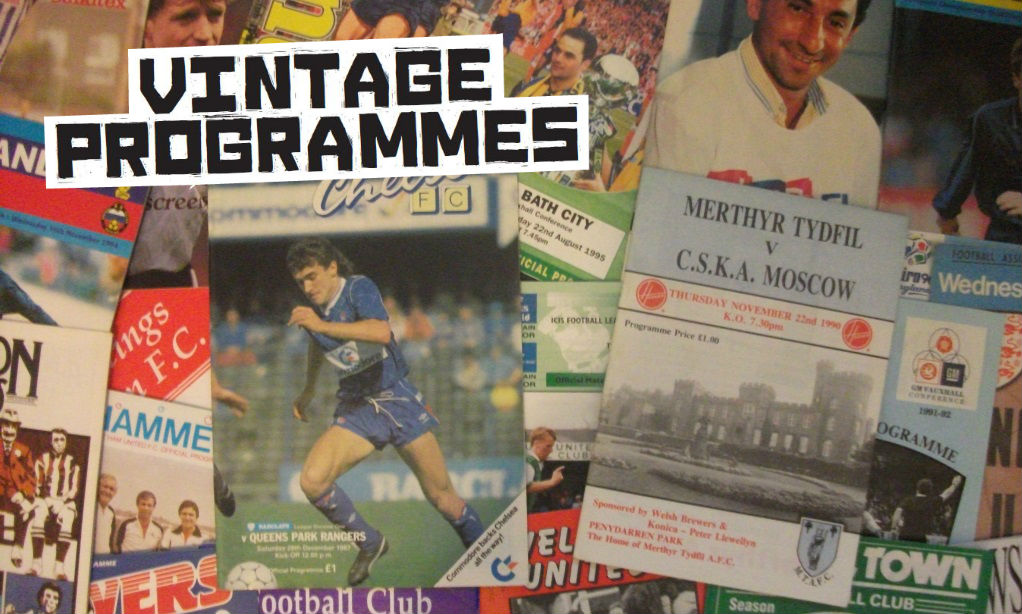 By Neil Cotton
FOR the best part of 20 years I've been carrying around a collection of football programmes.
The vast majority of these I acquired over the two seasons in which I had a season-ticket at The Dell, during which time a vital part of my matchday ritual would be the trip to the programme shop 'collectors corner'.
Accommodated within a nook of the Milton Road stand, the shop offered not just that day's programme, or the latest away programme, but a whole range.
It was the eclectic stock on the shelves which first provided me with a sense of the sheer depth and breadth of the world of football as the programme for the Euro '96 Final sat alongside a programme for Billericay Town's FA Cup third qualifying round tie with Chelmsford City.
In the euphoria of the move to St Mary's, it seemed only a minor detail that there would be no 'collectors corner' tucked away in an alcove.
Having moved away to uni and given up my season-ticket, my collecting days were at an end.
I would continue to add a trickle of programmes from the games I had attended, but the bulk of my old collection, acquired in the old Dell days, was consigned to a box at the bottom of a wardrobe.
Over the years, vague intentions to finally get a grip and sort through the collection have all failed to materialise, but a recent move finally led me to open the box and delve deep into its contents.
The intention had been to impose some sort of order on a collection which was put together with more enthusiasm than focus, slimming it down into something more manageable – or at least something which would fit in a smaller box.
Separating out all the programmes featuring my club Southampton, other local teams, clubs which no longer existed, or fixtures which stood out as interesting – a 1990 clash between Merthyr Tydfil and CSKA Moscow being the most unusual – I was finally left with a pile which I was prepared to let go of.
First though, I decided to read through them one last time just in case there were any which I wanted to keep.
It was here that the problems began: a Chelsea programme from 1987 was saved thanks to a rant from Ken Bates, aimed at David Bulstrode, over the development of Stamford Bridge, a Derby County programme from 1993 wins a reprieve due to a rather interesting article on the history of programmes – not to mention an advert containing a particularly horrible article of club-based leisurewear, whilst a Hastings Town programme avoids the chop, because one day I might just need to know that their 1991 away defeat to Peacehaven in the FA Cup attracted 355 spectators.
In fact each programme I flick through tells some kind of a story. Preserved like a pre-historic insect in amber are small nuggets of information which reveal much about the development of the game and prevailing attitudes at the time, whether it's the managers comments showing disdain for the Anglo-Italian Cup, adverts for 90s era dodgy club-themed leisurewear – which in themselves speak volumes about how clubs were seeking to adapt to a new age of commercial opportunity.
A letter in a 1992 West Ham programme in which a female fan complains of abuse her and her sister regularly receive at games, including "hassle and offensive comments" from their fellow West Ham fans, is also an opportunity to pause to reflect on how things have changed and perhaps how much still needs to change.
The result is that at the end of a few hours of sorting and , the 'get rid' pile has shrunk to just two programmes!
I seem to have three copies of the programme for Winsford United's HFS Loans Premier League clash with Matlock Town in 1993. Two of these can go to the charity shop.
*This article originally featured in the April/May edition of Late Tackle. The latest edition is available now!
Follow us on Twitter here and Like us on Facebook here.
Tagged EFL, Football League, Late Tackle, LT, Non-League, Premier League, Programmes, Saints, Southampton, The Dell, Vintage football