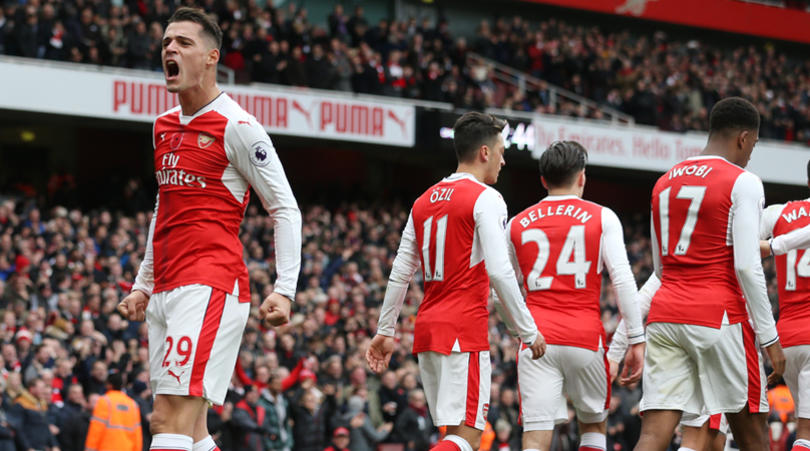 Arsenal's big money signing Granit Xhaka had gone largely under the radar for Arsenal during the 2016-17 season.
I am sure Arsène Wenger will be thankful of this as surely it is only a matter of time before people catch up. You get the sense that the Swiss International has been totally misunderstood by a large section of the footballing eyes outside of Arsenal football club.
Stop me if you've heard this before.
"Arsenal need a 'Patrick Vieira' (these players obviously are found in every corner shop in England) someone who can stick their foot in and not get bullied. Someone to frighten the opposition, throw their weight around" etc etc
The English have an obsession with physicality so you get a huge whiff of that whenever you come across Arsenal analysis from journalists and pundits.
Granit Xhaka is a player who plays in his own half but going to ground and winning the ball back isn't his strongest suit. In fact at times he has been a liability in that sense. That has been shown by the two red cards he has picked up in his first season in North London as well as many yellows along the way.
The likes of Tony Cascarino may struggle to understand the nuances of what Xhaka is bringing to this version of Arsenal.
According to the likes of Cascarino and his ilk, if you don't run around like N'Golo Kante and make lots of tackles in midfield then you are not a midfielder. Grant Xhaka is a very different player who is able to knit his team together with razor sharp passing from deep. His ability to pick up the ball from his centre backs and spread passes all over the pitch has been a joy to behold, especially over the last few months. It seems like there is a good chance that many sports betting sites will have stakes on Xhaka being one of the best players in the Premier League next season. I'd bet my bottom dollar that Xhaka will be one of the best players in the Premier League next season.
It is no coincidence that Mesut Özil had picked up his form at the same time as Granit Xhaka's influence on the team was growing game by game. When Arsène Wenger had to pair the likes of Francis Coquelin, Aaron Ramsey or Mohammed Elneny together in midfield, Arsenal did not have the player to break the lines with incisive passes. When Santi Cazorla was ruled out through another serious injury they needed another player who had a little more craft when Arsenal had the ball, that is exactly what Granit Xhaka provided.
When Arsène Wenger switched to the 3-4-2-1 system it gave the Swiss pass master the additional foundations for Xhaka to flourish further as explained so well on the Arsenal Vision Podcast. Now with another player behind him to cover his lack of pace and mobility and a wider pitch from the wing backs for Xhaka to spray those curving back spinning passes to, he gets to stamp his authority on matches on a regular basis.
Arsenal won 7 of their 8 games in that system and Granit Xhaka was a big part of that success including the excellent FA Cup final victory against N'Golo Kante's Chelsea.
As long as the Arsenal manager, whom ever that turns out to be, plays players around him to do the jobs that he cannot, I suspect we will see the 23 year old come out of the shadows next season.