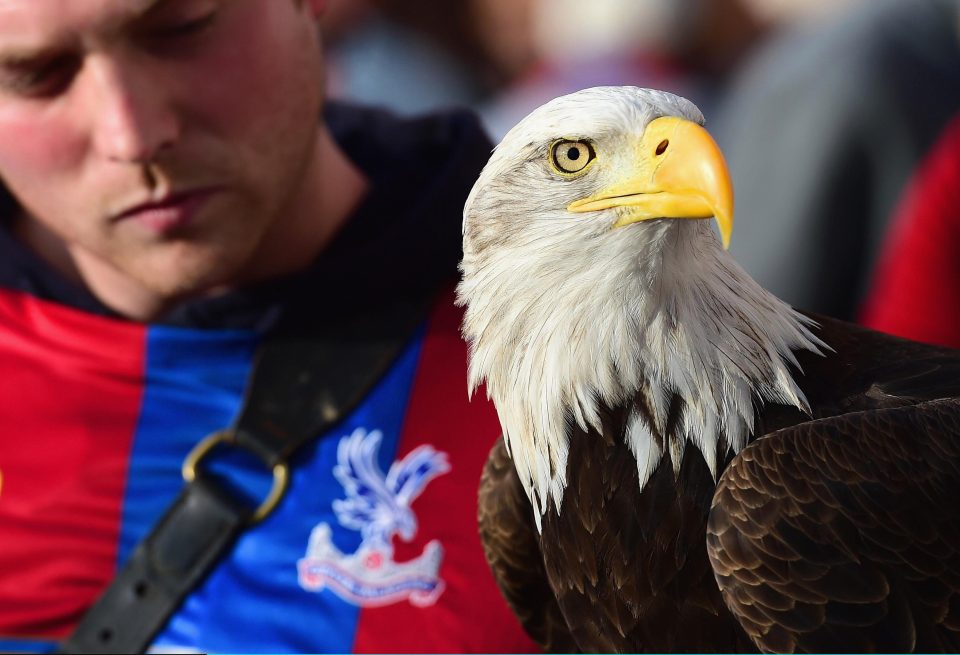 It hasn't exactly been a great season so far if you are a Crystal Palace fan.
The struggling South London side are currently 19th in the Premier League, with just goal difference separating them and basement club Sunderland, and have won just five games all season.
Only one of those five victories have come in Palace's last 10 matches, and as it stands, Championship football at Selhurst next season is nothing more than a certainty.
But, if you think the club's torrid form was bad enough, Palace's lucky match-day mascot Kayla, a bald eagle, has been put on 'sick leave' admist fears she could catch bird-flu, and hasn't been at any games so far this year.
For many fans, Kayla's swooping pre-match display was great entertainment, and the perfect respite before 90 minutes of watching Damien Delaney attempt to play football, but with fears she could contract the infamous disease, the eagle has been granted time off.
Thankfully, it is merely a precaution, and Kayla isn't infected, but experts are worried because of her predatory instincts, letting her loose in the skies above Selhurst could end up with her catching prey that had contracted the flu.
Alan Ames, who works at Eagle Heights in Kent where Kayla lives, told the press that despite it being unlikely Kayla would get bird flu, it's a risk they can't take, and if she did catch it, should could be culled.
He said: "If we had one bird with bird flu, the consequences would be disastrous.
"Bird flu tends to effect poultry, things like ducks and chickens, especially if they're in high concentrations.
"She doesn't tend to catch anything anyway, but they're not stupid these birds."
However, despite the health worries, Palace fans might not have to wait too long for Kayla's return, with the potentially pivotal home fixture against Middlesbrough on February 25th earmarked for her return.