Coke suffers knee ligament injury in Schalke 04 debut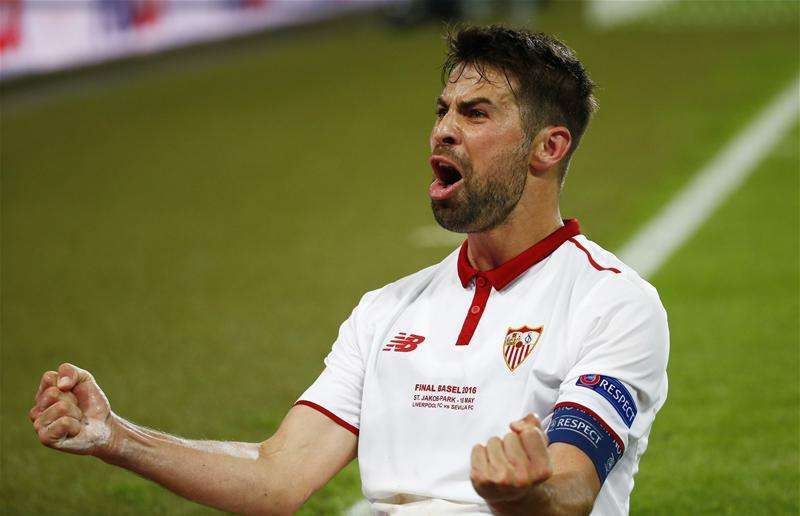 By Nathan Jacobs
Schalke 04 have been dealt a huge blow as their new summer recruit Coke suffered serious knee ligament damage in his debut against Bologna.
The 29-year-old was featuring for the Royal Blues in a pre-season friendly when he felt pain in his right knee following a tackle. Unfortunately, the right back is now facing a six month spell on the sidelines merely a week after moving to Germany.
Coke scored a magnificent brace for Los Rojiblancos against Livepool in the Europa League final, ensuring that the Andalucian club made it three consecutive Europa League triumphs.
The Spaniard, who made 117 appearances for Sevilla in his five years with the club said an emotional goodbye the week prior to his move to the Bundesliga.
Coke stated to the club's website: "I am 29 now and I have played my whole career in Spain. I had five great years at Sevilla, which is a really big and outstanding club. That's why there was a few tears when I left.'
Upon joining Schalke, the defender added: "I am happy to finally be here. I have a good feeling about the team. They have warmly welcomed me." Unfortunately though, it doesn't appear that the Gelsenkirchen faithful are going to see their new man in action until February at the earliest.
To make matters worse for Schalke, they already lost defender Joel Matip to Liverpool earlier this summer without recouping a fee whilst their young starlet Leroy Sane also transferred to England, with Manchester City purchasing him for a reported £37m.
However, it's not all doom and gloom for Schalke as the highly-regarded Swiss striker Breel Embolo chose the German club ahead of suitors from the Premier League and La Liga, giving their hopes of bettering their 5th-placed finish last season a much-needed boost.
Tagged Bundesliga, Coke, Europa League, La Liga, Schalke 04, sevilla